Hp Elitebook 840 G2 Intel Core i5 2.60GHz 4GB 500GB 14″ screen Certified Refurbished
Intel Core i5-4600U 2.10GHz
8GB RAM, 500GB
Intel HD Graphics 4400
DTS Studio Sound
Compare
Description
HP EliteBook 840 G2 looks stunning with its thin and light structure. This HP EliteBook packs 500GB  and 4GB RAM for fast operations. Integrated with Intel Core i5-4600U processor, the laptop makes sure your toughest of work tasks get done quickly without hitting roadblocks in the process. This HP EliteBook 840 G1 is preinstalled with Free DOS, which provides a smooth and fun interaction with the device's interface, you can order a Genuine Windows from Saruk Digital Solutions. This HP EliteBook has various connectivity options and ports for effortless sharing of data between the laptop and other compatible devices.
   Design Features
The HP EliteBook 840 G1 wants to beat the business rivals from Lenovo and Dell. Thanks to an extensive diet, the 14-inch device is thinner than ever, but you do not have to waive a fast Core i5 processor, sufficient memory and comprehensive features. Not only was the mobility important during its development; the case, which is made of aluminum and magnesium, also had to prove its durability during military tests according to MIL-STD 810G. HP's claim sounds realistic since the base unit is extremely sturdy and handles concentrated pressure without problems.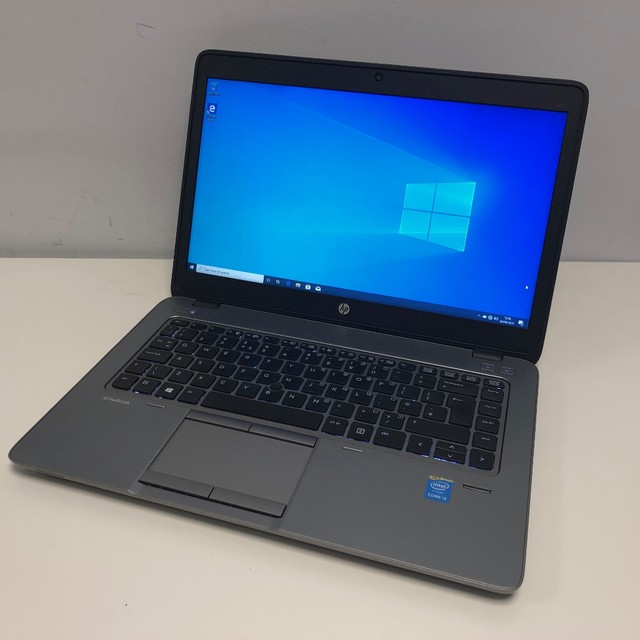 Powered by the Intel Core i5-4600U processor with a clock speed of 2.6GHz, the system at a smooth and quick processing pace. The 4GB RAM provides lag-free seamless multitasking capabilities. The Free DOS Operating System offers an intuitive and easy to use interface. The massive storage of 500GB  delivers blazing-fast read and write speeds and helps the system run every task with reduced latency. Never fear unexpected bumps and minor spills with the laptop's robust exterior. Designed to undergo MIL STD 810G testing to be travel tough. Corning Gorilla Glass touch screen lets you make the most of Windows while protecting the screen from scratches.
The installed HP Sure Start reduces IT help desk calls in the event of a BIOS corruption or attack and restores productivity. The HP Trust Circles ensures that only assigned contacts can access important files. HP BIOS Protection is designed to help prevent data loss and reduce downtime. HP Drive Encryption, HP Device Access Manager, and HP Secure Erase enable you to safeguard your data, devices, and identities. The 14inch produces crisp and bright images and allows for intuitive control with its ultra responsiveness. The HD Audio with DTS Studio Sound delivers crystal clear and immersive audio for any content. Two integrated stereo speakers add a rich surround effect and bass to the crisp audio output.
General Specifications
Intel Core i5-4600U 2.60GHz
4GB RAM, 500GB
Intel HD Graphics 4400
DTS Studio Sound